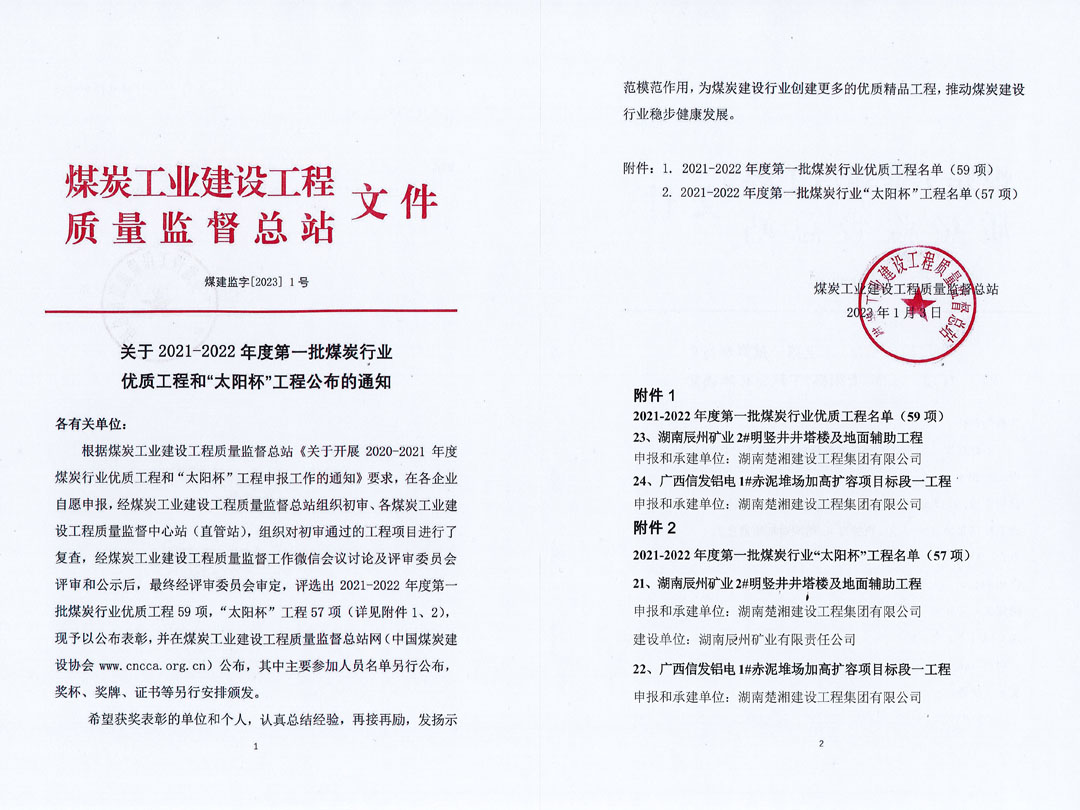 Recently, the General Station for Quality Supervision of Coal Industry Construction Projects issued the "Notice on the Announcement of the First Batch of High Quality Projects and" Sun Cup "Projects in the Coal Industry in 2021-2022" and the winning list. The first bid section of the Guangxi Xinfa Aluminum Power Co., Ltd. 1 # Red Mud Storage Yard Heightening and Expansion Project undertaken by Chuxiang Construction Engineering Group Hunan Chenzhou Mining Co., Ltd. has won two awards for engineering quality in the coal industry: the "Sun Cup" Engineering Award and the High Quality Engineering Award.
According to reports, the Coal Industry High Quality Engineering Award is a recognition of outstanding projects in the coal industry. The "Sun Cup" Engineering Award is a "selection of the best" from the high quality engineering awards, and is the highest award for the quality of construction projects in the coal industry. The two awards adhere to the principle of selecting the best from the best and controlling the total amount, advocate promoting the systematization, scientificity, and economy of engineering quality management, and promote and commend engineering projects with excellent design, excellent quality, good management, good efficiency, advanced technology, and green construction.
In recent years, Chuxiang Construction Engineering Group adheres to the core values of "pragmatism, dedication, innovation, and progress", and adheres to the quality philosophy of "honesty and credibility, precision and dedication, precision and standards, and precision and distance". It actively promotes concept updating, management innovation, and technological innovation, strictly adheres to Chuxiang's quality ethics, and continuously improves the scientific, standardized, and standardized level of safety and quality management, achieving survival by quality, and efficiency by quality Pursue development with quality, create a brand with quality, and create high-quality and reassuring projects one after another with ingenuity.
The winning of the two awards is another perfect embodiment of the company's continuous improvement of quality awareness, excellence awareness, and quality awareness in engineering construction, highlighting the company's superb mining construction technology and strict professional management level, which is of great significance for further exploring the mining infrastructure market, comprehensively improving brand image, and enhancing enterprise competitiveness.